Roy had a feeling he had it all set! Fee Fighters offers "a new way to shop for a merchant account". Strong motto, simple flow and the fact that it's "free" got Roy to "Get Started".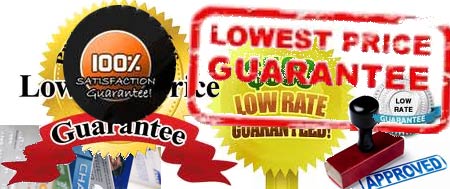 M. from Century Payments followed up quickly: "Dear Roy, We have received your information via Fee Fighters, and after careful review we are happy to report that we will be able to assist you. Below are the results of our analysis based on the information you provided. Pricing: Interchange Plus: 0.00% + $0.05 per item".
As charging 5 Cents only (above Interchange) per transaction sounded too good to be true, Roy further investigated: "Can you please provide … exact costs for regular transactions and micropayments", to which M. responded:
"Certainly, I have included a list of the exact costs associated with different cards below. Since you are quoted at Interchange + 0.00%, you will be getting at-cost wholesale rates for any and all cards. Interchange is the percentage of each transaction that is taken out by Visa, MasterCard, etc. Therefore, we are unable to eliminate all rates. However, the fees associated with these rates are tax deductible.
Your offer also states a $0.05 per item fee, which is very low compared to industry standards (PayPal charges $0.30 per transaction). Your only fixed cost is a $10 monthly fee. Therefore, if you do not run any cards for an entire month, you will only be charged $10. Rates associated with different card types: Debit: 0.94%, Debit (non-swiped): 1.60%, Visa/MC traditional credit card: 1.54%, Visa/MC traditional credit card (non-swiped): 1.80%… To begin processing with Century Payments we will need to complete an application for you, which you will need to sign".
Though Roy knew that not mentioning a per transaction fee within Interchange (usually 10 Cents) is misleading, surely in the case of micropayments to which Roy related in specific (additional 10% on a $1.00 transaction…!), he still felt that he couldn't go wrong with a cost of Interchange plus only 5 Cents per transaction, and was ready to sign on the application.
A quick look at the application revealed: an additional 1% for mid qualified, additional 2% for non qualified, the fees do not apply to Amex, AVS – additional 10 Cents, Early termination fee "Please relate to Paragraph 22.1 of the Merchant Services Program Guide" whatever that means…!!! and many other fees, such as Batch, Maintenance, chargeback, high risk fee, and overall opacity with regards to what actually applies…
Merchant account providers do tend to stretch "as low as" to its limits and yet M. from Century Payments has broken a new record! Stating: "at-cost" for "any and all cards" responding to an "exact costs" query is pure, intentional, misleading information provided to a potential buyer.
Roy is no longer certain he found the right way to shop for a merchant account, yet positive he has revealed a new way to SELL…
Guest Author
www.CreditCardProcessing-r-us.com
Tags: Merchant account - New way to shop, Merchant Account Shopping